Key Updates in Shradha Walkar Murder Case
Shraddha Walkar filed a complaint against her partner Aftab Poonawala
TNI Bureau: As investigators look into the Shraddha murder case, more information has come to light thanks to an old police complaint that Shraddha filed against the accused Aftab. Here are the Key updates.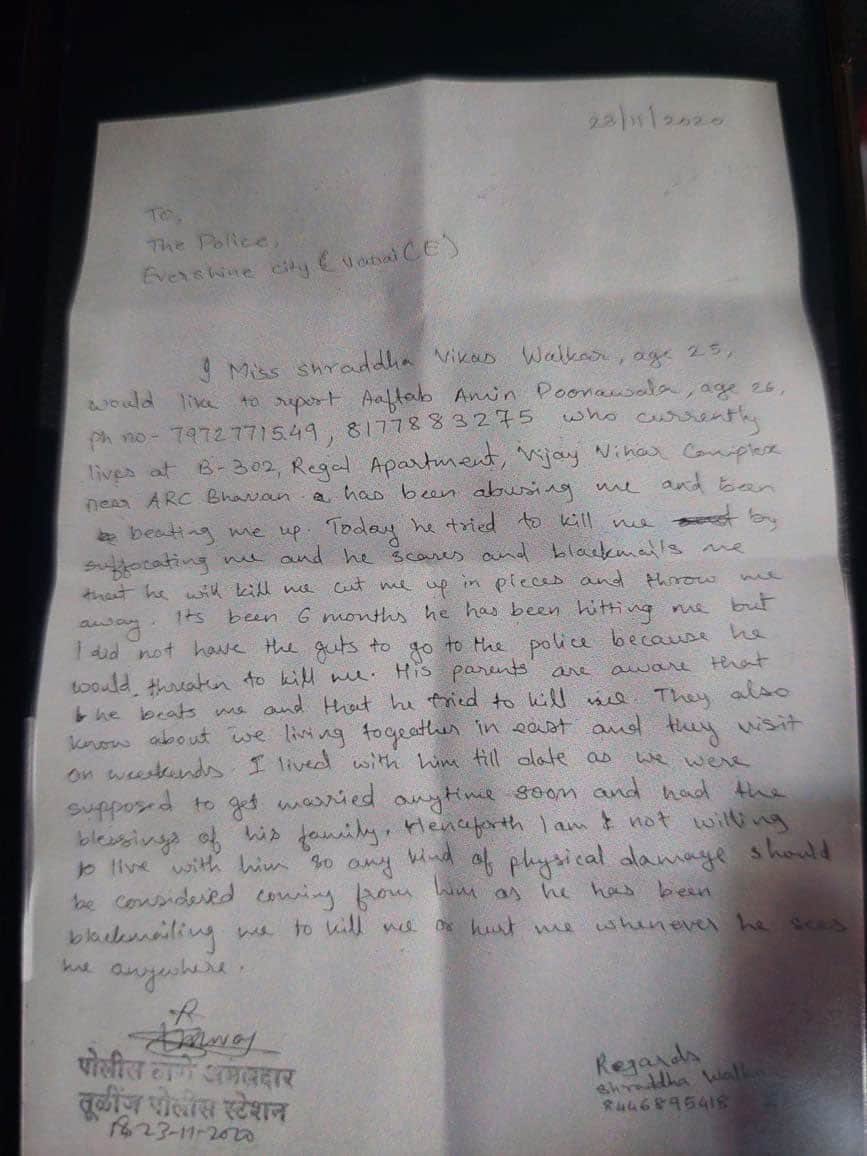 On November 23, 2020, Shraddha Walkar filed a complaint against her partner Aftab Poonawala at the Tulinj police station. Shraddha said in her complaint that Aftab had threatened to mutilate and strangle her. Aftab's family was informed in the complaint by Shraddha that he used to beat her and had murderous intentions toward her.
Maharashtra would look into Shraddha's police complaint against Aftab from 2020, according to Fadnavis.
Aaftab Poonawala, who is accused of killing Shraddha Walkar, his live-in girlfriend, is currently undergoing another round of polygraph testing at the Forensic Science Laboratory in Rohini, with a narcoanalysis following it maybe on Monday.
Aaftab had complained of a fever during the polygraph test, so the police transported him to the hospital before bringing him before the Saket courts.
We gave the police our analysis following the conclusion of each polygraph test session so they could look into the accusations made by the defendant, according to sources to the TOI. According to sources in the Tihar jail, Aaftab is being held in jail number 4, which is typically reserved for newcomers. He has been kept under observation to make sure he doesn't hurt himself or someone else inside the jail. He ate his meals but did not interact with other inmates much.
According to FSL sources, if a second polygraph test is administered, it will take place on the same day as the narco analysis. The narco analysis typically takes place over the course of three sessions. "It's possible that the analysis team will get right into Aaftab's primary drug use. A police officer stated that the presession, which involves interaction with the subject, was already completed during the polygraph examination.
Aftab dated this woman after murder? – According to sources to Zee News, Aaftab Poonawalla killed and dismembered his live-in partner Shraddha Walkar before contacting a woman who had met her. Aaftab met the woman—a psychologist by profession—through the mobile dating app "Bumble," which is also where he first met Shraddha.